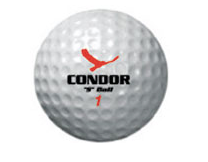 Product Description
A small golf company in Connecticut has created a powerful, new ball that flies like a U-2, putts with the steady roll of a cue ball and bites the green on approach shots like a dropped cat. But don't look for it on weekend TV. Long-hitting pros could make a joke out of some of golf's finest courses with it. One pro who tested the ball drove it 400 yards, reaching the green on all but the longest par-fours. Scientific tests by an independent lab using a hitting machine prove the ball hits up to 22 yards longer than 15 major brands.

The ball's extraordinary distance comes partly from a revolutionary new dimple design. The ball is also slightly smaller that regulation balls, which reduces air drag dramatically. The result is a ball that gains altitude quickly, then sails like a glider. None of the changes are noticeable in the ball itself.

Despite this extraordinary performance, the company has a problem. A spokesman put it this way: "In golf you need endorsements and TV publicity. This is what gets you in the pro shops and stores where 95% of all golf products are sold. Unless the pros use your ball on TV, you're virtually locked out of these outlets. TV advertising is too expensive to buy on your own, at least for us."
"Now, you've seen how far the ball can fly. Can you imagine a pro using it on TV and eagle-ing par-fours? He would turn the course into a par-3. This new fly-power forces us to sell it without relying on pro-shops. One way is to sell it direct from our plant. That way we can keep the name printed on the ball a secret than only a buyer would know. There's more to golf than tournaments, you know."